Ride for a Cure
Since October is Breast Care Awareness month, it seems only right to showcase some of the really great products that horse companies have come out with to help support the cause. And best of all, most are amazingly adorable.
This is a newer Charles Owen GR8 helmet, around $300

This is a new Kensington Blanket from the Smartpak Smart Pink Plaid Line. All the products in the Smartpink line help contribute to Breast Cancer research.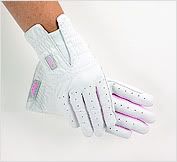 Brand new are the SSG Ride for a Cure Gloves.
They come in white and black as well as other colors, I believe.
Last, one of my favorite products is the Lettia Breast Care Awareness pad.
I wish I had a cute little mare that i could smother with pink!!! I love the pink-white-black combinations... and, remember, its for an EXCELLENT cause, so dont hesitate to support breast cancer awareness and research with some adorable products!